Stefano Gabbana, one half of the fashion house Dolce & Gabbana, proudly bragged on Instagram this week that future First Lady Melania Trump had worn a D&G dress on New Year's Eve — and then, when critics threatened to boycott his brand, he met them head-on.
Shortly after New Year's, Gabbana posted a photograph of Donald and Melania Trump to his Instagram account. The photo shows the Trumps celebrating the occasion at the Mar-a-Lago estate in Palm Beach, Florida, with Melania Trump wearing a black D&G cocktail dress from the company's Cruise collection.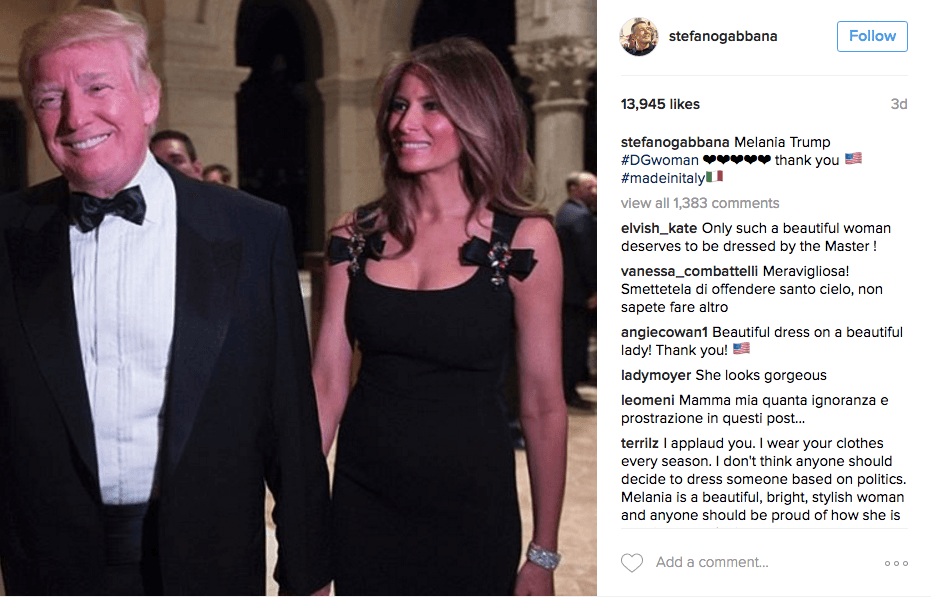 A proud Gabbana captioned the photograph: "Melania Trump #DGWoman thank you #madeinitaly," along with several heart emojis.
While the post drew a number of highly supportive comments, some of Gabbana's followers wrote that they would never again buy his products or wear his clothes. One commenter likened Melania Trump to Eva Braun, the girlfriend of Nazi leader Adolf Hitler.