During a recent episode of his podcast, "The Joe Rogan Experience," host Joe Rogan and his guest, comedian Ryan Long, discussed the issue of gender identity and the recent cultural focus on it. They used the example of a Canadian shop teacher who identifies as a trans woman and wears large prosthetic breasts while teaching children. Rogan argued that society needs to "leave room for crazy people" in every group, including the transgender community. He warned that if society doesn't allow for this possibility, it risks becoming a "cult."
Rogan stated that the current focus on gender identity is an ideology being enforced, which doesn't allow for discussion or criticism. He said that the obsession with gender has happened in every civilization before it collapsed, citing Douglas Murray's comments on his podcast. He added that the possibility of "crazy people" exists in all groups, including those who are transgender, and society needs to acknowledge this.
"You have to leave room for crazy when it comes to trans people too and right now they don't"

Joe Rogan and Ryan Long discuss the Woke insanity of the Canadian 'trans' shop teacher. pic.twitter.com/vAtBiT6ykP

— Mythinformed MKE (@MythinformedMKE) February 22, 2023
While Rogan stated that he wasn't discussing all transgender people, he specifically addressed the possibility of crazy people being in any group, which he believes is 100%, arguing that not allowing for the possibility of crazy people is dangerous and leads to a cult-like mentality.
"So you have to leave room for crazy when it comes to trans people too. And right now they don't."

"They're not leaving room for crazy… This is why you have this guy up in Canada with the giant rubber t*ts with the shoulder strap. I think he's running a con. He may be running a con. I mean this is just my opinion. But it seems like he dresses up like a man during the day."

"Which of course it's a con … bro, it's nuts that you can do that,"

"This is where I'm saying you have to leave room for crazy in everything. And if you don't leave room for crazy then we're in a cult. Now we're in a cult."
He cited Kayla Lemieux, a Canadian shop teacher as an example of a person who may be running a con and dressing up like a man during the day. He called for society to acknowledge that leaving room for crazy people in every group is essential.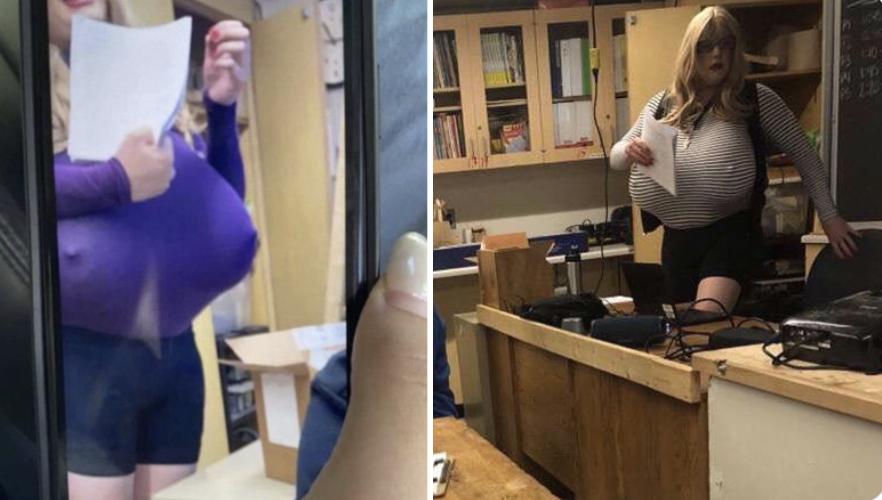 The Canadian teacher referenced by Rogan, Kayla Lemieux, reportedly wears the prosthetic breasts only occasionally, while teaching or taking walks, according to a neighbor. While Rogan's comments have sparked controversy, some argue that he is promoting an open and inclusive society that allows for discussion and acknowledges the possibility of outliers in every group.